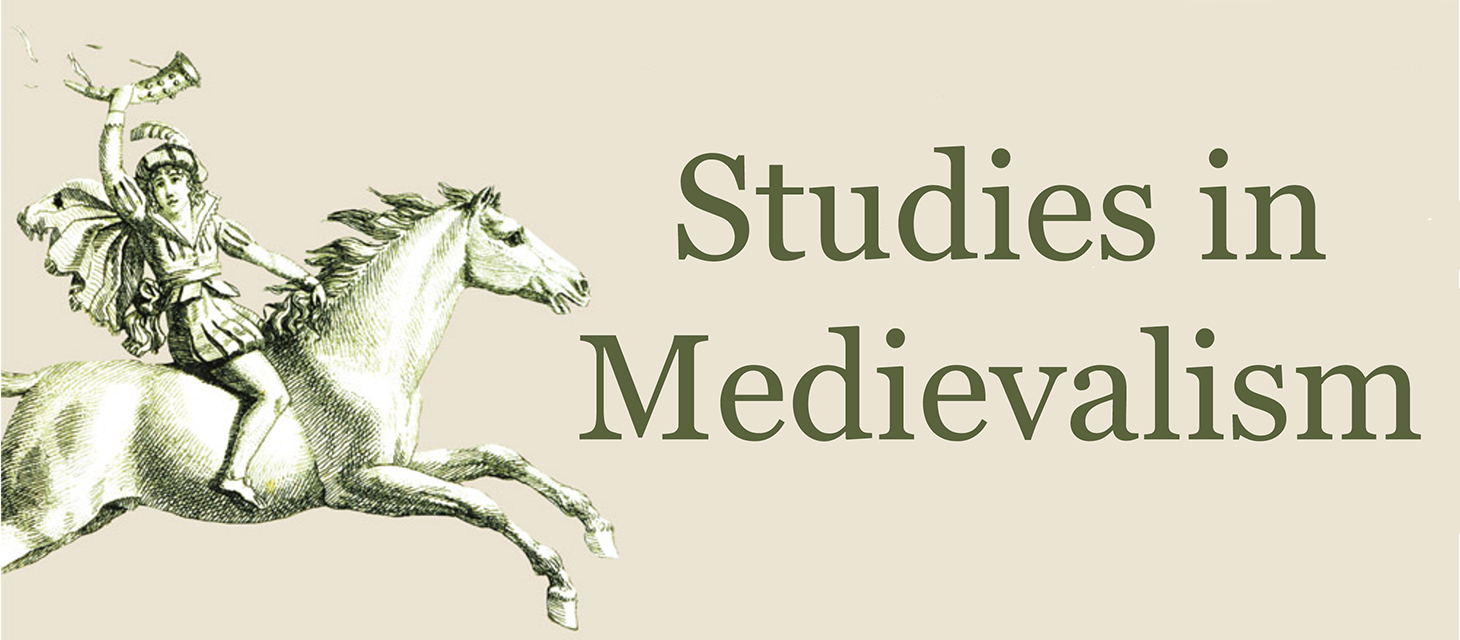 CLICK HERE for the Style Sheet
Studies in Medievalism is the oldest academic journal dedicated entirely to the study of post-medieval images and perceptions of the Middle Ages. It accepts articles on both scholarly and popular works, with particular interest in the interaction between scholarship and re-creation. Its aim is to promote the interdisciplinary study of medievalism as a contemporary cultural phenomenon. Originally published privately, Studies in Medievalism is currently published by Boydell & Brewer, Ltd.. Click on the below links to Back Volumes for details and to order online.
---
Submissions and inquiries regarding submissions should be directed to Karl Fugelso (kfugelso@towson.edu).  Please follow the Style Sheet when preparing your submission for consideration.
Studies in Medievalism I.i
Medievalism in England
(Ed. Leslie J. Workman, Spring 1979)
Studies in Medievalism I.ii
Medievalism in America
(Ed. Leslie J. Workman, Spring 1982)
Studies in Medievalism II.i [unavailable]
Twentieth Century Medievalism
(Eds. Leslie Workman & Jane Chance, Fall 1982)
Studies in Medievalism II.ii
Medievalism in America
(Eds. Leslie Workman & Heather Arden, Spring 1983)
Studies in Medievalism II.iii
Dante in the Modern World
(Eds. Leslie Workman & Kathleen Verduin, Spring 1983)
Studies in Medievalism II.iv [unavailable]
Modern Arthurian Literature
(Eds. Leslie Workman & Veronica M. S. Kennedy, Fall 1983)
Studies in Medievalism III.i [unavailable]
Medievalism in France 1500-1700
(Eds. Leslie Workman & Heather Arden, Fall 1987)
Studies in Medievalism III.ii
Architecture and Design
(Eds. Leslie Workman & John R. Zukowsky, Fall 1990)
Studies in Medievalism III.iii-iv
German Medievalism
(Eds. Leslie Workman, Jane Chance, & Francis G. Gentry, 1991)
Studies in Medievalism IV
Medievalism in England
(Ed. Leslie J. Workman, 1992)
Studies in Medievalism V
Medievalism in Europe
(Ed. Leslie J. Workman, 1994)
Look Inside
Studies in Medievalism VI
Medievalism in North America
(Ed. Kathleen Verduin, 1994)
Look Inside
Studies in Medievalism VII
Medievalism in England II
(Eds. Leslie J. Workman & Kathleen Verduin, 1996)
Look Inside
Studies in Medievalism VIII
Medievalism in Europe II
(Eds. Leslie J. Workman & Kathleen Verduin, 1997)
Studies in Medievalism IX
Medievalism and the Academy
(Eds. David Metzger, Kathleen Verduin, & Leslie J. Workman, 1998)
Look Inside
Studies in Medievalism X
Medievalism and the Academy II
(Ed. David Metzger, 2000)
Look Inside
Studies in Medievalism XI
Appropriating the Middle Ages: Scholarship, Politics, Fraud
(Ed. Tom Shippey, Assoc. Ed. Martin Arnold, 2001)
Look Inside
Studies in Medievalism XII
Film & Fiction: Reviewing the Middle Ages
(Eds. Tom Shippey & Martin Arnold, 2003)
Look Inside
Studies in Medievalism XIII
Postmodern Medievalisms
(Eds. Richard Utz & Jesse G. Swan, 2005)
Look Inside
Studies in Medievalism XIV
Correspondences: Medievalism in Scholarship and the Arts
(Eds. Tom Shippey & Martin Arnold, 2005)
Look Inside
Studies in Medievalism XV
Memory and Medievalism
(Ed. Karl Fugelso, 2007)
Studies in Medievalism XVI
Medievalism in Technology Old and New
(Ed. Karl Fugelso & Carol L. Robinson, 2008)
Look Inside
Studies in Medievalism XVII
Defining Medievalism(s)
(Ed. Karl Fugelso, 2009)
Studies in Medievalism XVIII
Defining Medievalism(s) II
(Ed. Karl Fugelso, 2009)
Studies in Medievalism XIX
Defining Neomedievalism(s)
(Ed. Karl Fugelso, 2010)
Look Inside
Studies in Medievalism XX
Defining Neomedievalism(s) II
(Ed. Karl Fugelso, 2011)
Look Inside
Studies in Medievalism XXI
Corporate Medievalism
(Ed. Karl Fugelso, 2012)
Look Inside
Studies in Medievalism XXII
Corporate Medievalism II
(Ed. Karl Fugelso, 2013)
Look Inside
Studies in Medievalism XXIII
Ethics and Medievalism
(Ed. Karl Fugelso, 2014)
Look Inside
Studies in Medievalism XXIV
Medievalism in the Margins
(Ed. Karl Fugelso, 2015)
Look Inside
Studies in Medievalism XXV
Medievalism and Modernity
(Ed. Karl Fugelso, 2016)
Look Inside
Studies in Medievalism XXVI
Ecomedievalism
(Ed. Karl Fugelso, 2017)
Studies in Medievalism XXVII
Authenticity, Medievalism, Music
(Ed. Karl Fugelso, 2018)
Studies in Medievalism XXVIII
Medievalism and Discrimination
(Ed. Karl Fugelso, 2019)
Studies in Medievalism XXIX
Politics and Medievalism
(Ed. Karl Fugelso, 2020)
Studies in Medievalism XXX
Politics and Medievalism (Studies) II
(Edited by Karl Fugelso, 2021)
Studies in Medievalism XXXI
Politics and Medievalism (Studies) III
(Edited by Karl Fugelso, 2022)